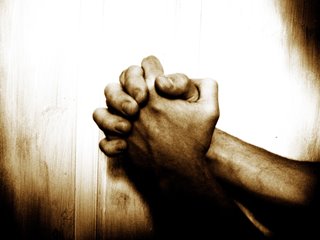 Mat 18:19  Again I say unto you, That if two of you shall agree on earth as touching any thing that they shall ask, it shall be done for them of my Father which is in heaven. 20  "For where two or three are gathered together in my name, there am I in the midst of them."
Okay, so Matthew 18:19-20 has nothing to do with prayer… let's establish that fact from the start. If you doubt this statement, read my blog "Wherever Two or Three are Gathered in His Name, They are Almost Certain to Misinterpret Matthew 18:20."
I don't say this because I hate prayer, though E. M. Bounds I ain't. I say this because confusing the point hurts Christians in two ways.
1. It conceals the true meaning of the text, robbing the church of the value that Matthew 18:19-20 was intended to provide it. Matthew 18:15-20 provides the church with an important message about church discipline and the spirit in which it is to be conducted. Again, read my earlier blog.
2. It creates unhealthy ideas about prayer and Christ's relationship to it.[1]
Now, given that this verse is one of the most frequently quoted misinterpreted  texts in the history of Christianity, #2 is a bold and serious statement.
Mistaking this text as a statement of prayer, adds some highly questionable notions about prayer to the collection of texts from which the average Christian develops his or her ideas about prayer. It adds the suggestion that Christ's presence, thus his attendance to prayer,  is, in some way, more meaningful the greater the number of prayers.
It also puts the guaranteed content of prayer into the hands of the prayers… so long as they agree. "You promised it in your word, God; you gotta give it… gottcha!!!!"
One of the great theological issues in regard to God and prayer is the role that prayer plays in the actions of God—the relationship of human request to Divine will. Articulation of the details of this relationship is important. The pagan heart is never too far removed from any of us.
Pagan notions of religion suggest that ritual acts and ritual words have the power to turn the will of deity to serve the purposes of the ritual performer. Their gods are regarded as neither omnipotent, omniscient, eternal, omnipresent, nor particularly good (i.e. well disposed toward creatures). On the contrary they are capricious, selfish, deceivable, and malleable. The pagan worshiper becomes a controller, and an empowered participant in outcomes, and not merely an instrument or an object of attention.
Thus, the questions, "Does prayer change YHWH or us? Does prayer move us into YHWH's will, or YHWH into our will?" are vital, and adding to our compilation of prayer texts one which suggests greater outcomes with greater numbers may lead to the notion that prayer is a spiritual power above and beyond being a spiritual discipline.
It also affects the individual's perception of his or her prayers; they are weaker, less effectual, when poured forth from a single heart; they are less able to attract that all important "Christ presence" supposed so important in group prayer.
I will not pretend to settle all the questions between divine and human interaction in prayer in one short post, there is much to be discussed, but, I do hope to raise awareness of the dangers of pagan thinking in regard to prayer, and, by removing Matthew 18:15-20 from consideration,  to do my part in unseating some extremely unhealthy attitudes that run deep in the collective Christian consciousness about prayer.
---
[1] While I grant that most who mistake the text for prayer only use it vaguely to encourage their congregations to pray with one another, and to show community care in a spirit of unity, that is the result of failed logic and is not reflective of some innocuous quality in the interpretation itself.