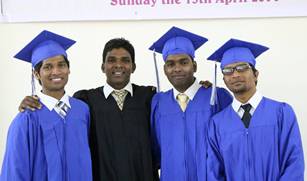 I went to Bible college at the age of 19. I'd worked construction for most of my summers through high school, and, while keenly interested in the ministry, imagined that I'd spend my life as a lay leader working full time in the trades. So, upon graduation from high school, I secured myself an apprenticeship [if you can call working for an abusive ignoramus an apprenticeship] and started into my life. Fortunately, I found another position with a wonderful plumber, and all round great guy. [If you are in the Foxboro, Ma area, hire Paul Ryan to do your plumbing.]
It took only one winter outdoors, however, to convince me that I was meant for other things. Kudos to all those who brave the full force of the seasons in order to help the rest of us create a better life for ourselves.
I went to Bible College. It wasn't like those who visit Hawaii and suddenly feel a call to missions; I'd felt the call all along and just needed a little adjustment to my perception of how to work it out.
At Bible college, I met Benjamin Hiwale from India. He was a one man culture shock for me [amusingly furious that he had to do woman's work in the college dish room… now he's married to an American woman and does lots of "woman's work" without complaint… well, maybe a little complaint]. We became fast friends and spent more than a few hours together dreaming about starting a Bible College in India.
Their have always been major practical problems with establishing stable Bible programs in India, not the least of which was language and, as a consequence, resources for training. Without a single official language, it is difficult to draw students from the entire country, and, without English, French, German or Spanish, it is difficult to fill usable libraries.
When India adopted English as an official language of government and commerce, however, the doors of opportunity flew open. While I was busy earning my degrees, Benjamin Hiwale was busy working in India from America preparing the ground. He purchased land, built housing, and mapped out a plan. In 2008, while I was writing my doctoral dissertation, he called me out of the blue. "Are you finally ready?" he said as soon as I said, "Hello?"
A few years earlier, he, together with a handful of other helpful fellows, had established a two year pastoral training program offering a nearly free education to students in their denomination who wanted to train for Christian leadership. I was asked to help establish Koinonia School of Ministry as a fully accredited Bible College that could compete with American levels of education. Given many of the cultural challenges, this is no small feat. [for more information go to indiaconnection.org]
So, what do I do with my summer vacations? I go to India to train faculty, design curriculum, and burn my innards with spicy Indian food.
I am leaving today for a month to attend my first graduation ceremony, work with faculty, and attend the annual NATA conference (our accrediting board) with them all. We are now accredited to offer a Bachelors of Theology, and have just moved into our first official campus building which we have been constructing for a few years now. We are making plans to have a fully functional masters program by 2020.
It's been a rewarding journey… except for the incredibly hot food… no seriously, the food is really really hot.